Reverence Farms owner Suzanne Nelson Karreman didn't set out to build a thriving farming operation when she moved to Alamance County. The former Washington, DC journalist simply wanted to produce enough fresh, healthy food to nourish her family. But when she discovered regenerative agriculture—a holistic farming approach that restores the soil, promotes biodiversity and benefits livestock—Karreman knew she had found her life's calling.  
Putting Down Roots 
After growing up in Chicago's North Side and graduating from Washington University in St. Louis, Suzanne Karreman embarked on a career in journalism. She moved east to Washington, DC where she covered politics at Roll Call, then a newspaper subsidiary of The Economist. 
Karreman eventually became disenchanted by the lack of awareness among policymakers regarding the role of whole food in health. After Hurricane Katrina, she and her then-husband moved to New Orleans to help rebuild. Before long, the oppressive Gulf Coast heat and humidity drove her to search for a more hospitable climate. North Carolina, with its mild weather and budding local food culture, seemed like the ideal choice.  
"I feel like I was divinely led to Alamance County. I had zero ties here. I had never been here before. What drew me to the area was the agrarian beauty combined with the proximity to many major universities and cultural centers," Karreman says. "I wanted to be in a place where I could be around other people who were thoughtful about how they wanted to reconstruct the world in a better way. I really wanted that mix of rural and urban life, and I found it in Saxapahaw." 
Food for the Family 
In 2007, Karreman settled on 10 acres of land just up the road from the little village of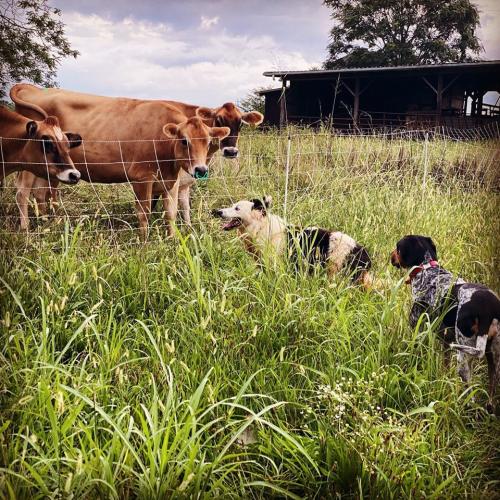 Saxapahaw. She quickly fell in love with the local community, but had trouble finding the types of nutritious, sustainable foods she preferred at the grocery stores and farmer's markets. 
"I wanted milk from a cow that ate only grass, and I wanted eggs from chickens that were fed organic ration and were able to be outside in the dirt and in the grass," Karreman recalls. "Neither of those things was available commercially, so I set about producing food that I wanted to eat." 
She learned about a farming practice called regenerative, or restorative, agriculture. The approach utilizes farming and grazing techniques, including conservation tillage, cover crops, composting and crop rotations, that help rebuild soil's organic matter and boost biodiversity. It restores nutrients and trace minerals that are vital to a healthy food supply. In other words, regenerative agriculture is good for people, livestock and the environment. 
Birth of a Farm 
Although Suzanne Karreman's initial goal was to produce 100 percent grassfed milk, dairy farms often take five to 10 years to generate a sustainable cashflow. To help fund the dairy production, Karreman focused on raising poultry and pork in the early days. She supplied the Saxapahaw General Store, Eddy Pub and other local businesses with protein. That helped fuel the growth of what was then called Cozi Farm, which she later renamed Reverence Farms.  
Suzanne's parents and brother became involved with the operation, and Reverence Farms eventually grew to more than 400 acres. They raised heritage chickens and beautiful St. Croix sheep. Their pigs included both commercial breeds and a heritage breed called Ossabaw.  
In 2015, Suzanne met Hubert Karreman, a veterinarian known for his pioneering natural treatment of dairy cows, and six months later they were married on the patio of the General Store. He left his practice in Lancaster, PA, where he treated 100 organic dairy herds, to farm with her in North Carolina. Hue has put his degree and love for soil science to work, restoring land worn out by cotton and tobacco production. 
"My goal in all of it was not, and is not, to produce an empire. It was to grow in such a way that more and more land could come under good stewardship," Karreman says. "For me, the exciting part about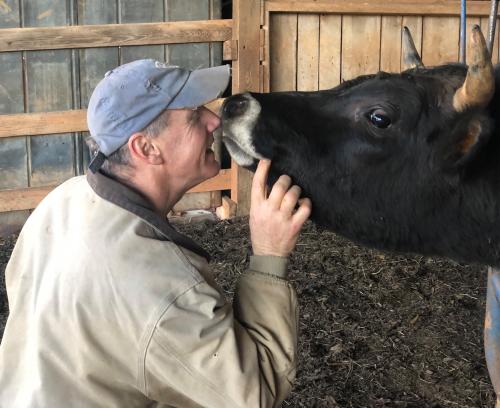 growing has always been more land gets healed." 
Living the Dairy Dream 
While Reverence Farms continues to raise poultry, pigs and St. Croix sheep, today, it operates primarily as a dairy farm. This fall, Karreman and her team will be milking approximately 35 Jersey cows, with plans to expand to 40 milking cows next spring. All of the milk contains only A2 milk proteins, which are more digestible and don't cause disease like the A1 proteins in most commercial milk, even organic milk. 
"We also raise all of the young stock, which is probably the most remarkable thing about our farm. It's one thing that makes us different from other farms because dairies don't keep young stock around," Karreman explains. So far, most of their heifers have gone into growing and improving the herd, but they have started to sell some animals as family milk cows.  
Reverence Farms now owns probably the largest collection of mature Jersey bulls in the eastern US. Their bulls are prized for their grass-based and polled (non-horned) genetics and the ability to produce Jersey cows that are capable of both grazing and producing milk. 
For Suzanne Karreman, operating a successful dairy farm on the banks of the Haw River is a dream realized.  
"There's something about dairy farms. They're like an anchor," Karreman says. "Historically and present day, if you look across the United States and around the world, the stabilizing force of communities are often dairy farms. I feel very honored to be part of the dairy history in Alamance County." 
Where to Find Reverence 
Reverence Farms recently closed their retail store location in order to focus their efforts online at ReverenceFarms.com. Their products are shipped as well as available for local pickup and delivery. Beginning in September, customers will be able to pick up their online orders at the farm.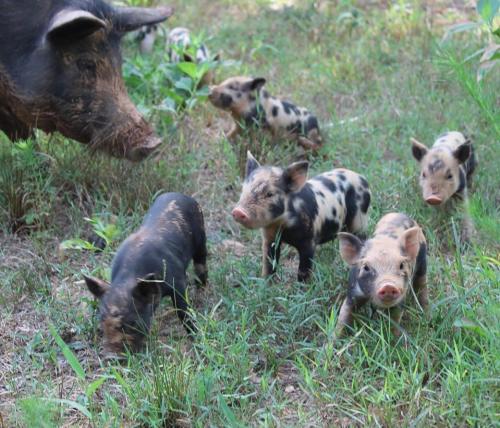 Several North Carolina restaurants and businesses offer a variety of goods from Reverence Farms, including Left Bank Butchery in Saxapahaw. 
Reverence Farms also donates meat to local churches that provide meals for those in need. Non-profits and church groups who want to learn more about this opportunity should contact the Reverence team at reverencefarms@gmail.com.  
Reverence Farms Tours 
For the past eight years, Reverence Farms has hosted the popular Piedmont Farm Tour. This year's 25th anniversary event, originally scheduled for April 25–26, was cancelled due to the COVID-19 pandemic. Educational hay-wagon tours of Reverence Farms have also been temporarily postponed. However, the public can still experience the beauty of the farm through self-guided tours. After hiking along the picturesque Haw River, visitors can watch the cows, chickens and other farm animals, and witness the team of farmers going about their daily tasks. 
Suzanne Karreman hopes the future will bring more visitors to Reverence Farms, where they will be free to walk around and learn more about sustainable, holistic agriculture.   
"We believe that the community can and should participate in the beauty that food creates," Karreman says. "Hiking around the farm is a beautiful way for people to explore how their food can create restored landscapes. The byproduct of bacon should be beauty." 
For more information about Reverence Farms and their self-guided farm tours, please visit ReverenceFarms.com.  
Please Note: Pets are not allowed at Reverence Farms. 
---
MEET MORE WOMEN OF THE YEAR
At Home in Alamance with an Award-Winning Winemaker
Growing the Guest Experience at TerraStay Farm
Graham's Forgotten Road Ales is One Brewery You Won't Forget
Grit and Grace Mixes Art with Edgy Fashion in Downtown Mebane
GeGe The Neighbor Cupcakery Sweetens Up Downtown Burlington
Haw River Ballroom: Bringing Music and Events to Saxapahaw
Owl and Rabbit Gallery Brightens Burlington with Whimsical Art and Gifts