Alamance County is home to some of North Carolina's premier wineries. Since opening in 2004, Iron Gate Vineyards and Winery in Mebane has produced dozens of award-winning wines, including merlot, cabernet sauvignon, chambourcin and sauvignon blanc. For owner Debbie Stikeleather, building the vineyard began, not with the goal of accumulating medals, but with the vision of bringing a scenic farm back to life. 
Love of the Land 
After graduating from Bartlett Yancey High School in 1972, Debbie Stikeleather landed her first job at a newly opened Dan River Mills facility in Mebane. As she traveled to work each day, Stikeleather would pass by an old farm known to the locals as the "Rock House." She soon became captivated by the picturesque setting. 
"I fell in love with the land first, long before anything to do with a vineyard or a winery," Stikeleather says. "There was just always something that tugged at me every time that I saw it."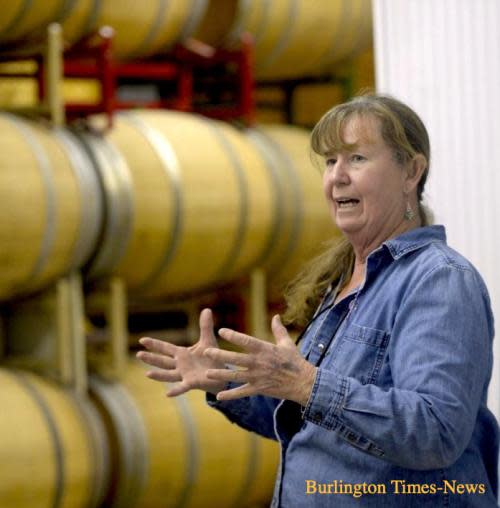 Nearly 25 years would pass before Stikeleather had the opportunity to realize her dream of living on the "Rock House" farm. In 1997, Stikeleather's fiancé Gene purchased the former tobacco farm, which by then had fallen into neglect. Together, the couple rolled up their sleeves and set about restoring the property. 
A New Kind of Crop 
Knowing they would need to produce something with the land, Stikeleather began researching different crop options online. She soon discovered the viticulture program at Surry Community College and enrolled in 2000. For two and a half years, Stikeleather made the grinding, two-hour commute to and from class, often arriving home after midnight.  
It was during this time that Stikeleather became North Carolina's first female winery owner. With her husband's help, she began planting Iron Gate's first vines—three and a half acres of merlot, sauvignon blanc and chambourcin. Not knowing which types of grapes would grow best, Stikeleather also planted an "experimental vineyard" that included 50 vines of five additional varieties. 
"It was a lot of work. My sister and I were in the vineyard every day, training vines and spraying, doing all the things you have to do. It's like tending to a baby—always got to be there," Stikeleather remembers. "I did everything from harvesting to dumping the grapes into the machinery. It was what I wanted to do." 
Sharing Her Experience 
Today, Stikeleather enjoys sharing her knowledge of wines and her experience of operating a vineyard in Alamance County. Prior to the COVID-19 pandemic, Iron Gate offered seated tastings at the winery. Visitors were treated to a detailed history behind each wine as the bottles were presented.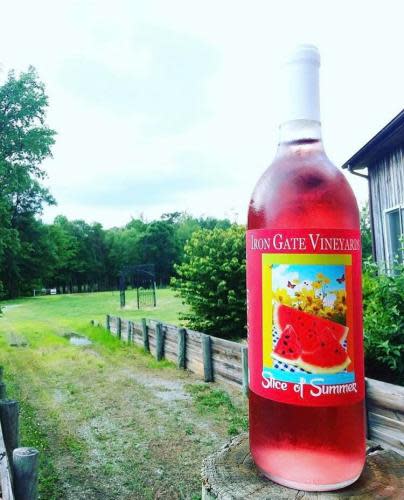 "We found that if we could tell them our story—and each label has a story to it—they would remember more about our wine," Stikeleather says. "The most fun for me was always just standing back, watching people and listening to their comments as they tasted the wine. That was worth more to me than any money."  
In addition to wine tourism, Iron Gate is one of Alamance County's most popular locations for holding events. Stikeleather has hosted groups of all types and sizes, from bridal showers and wedding receptions to birthday parties, family reunions, sorority events and car clubs.  
While the seated wine tastings and events are temporarily on hold due to COVID-19, Iron Gate is currently open for curbside service. Visitors can stop by to pick up some of their favorites or try one of the new offerings for 2020.  
"We just released our watermelon wine," Stikeleather says. "We have something for each season that we release. It's only out for a short time, and when it's gone, it's gone." 
You can learn more about North Carolina's first female winery owner and Iron Gate Vineyards and Winery at IronGateVineyards.com. 
---
MEET MORE WOMEN OF THE YEAR
A Passion for Growing Seedlings and Community
Replenishing the Land at Reverence Farms
Growing the Guest Experience at TerraStay Farm
Graham's Forgotten Road Ales is One Brewery You Won't Forget
Grit and Grace Mixes Art with Edgy Fashion in Downtown Mebane
GeGe The Neighbor Cupcakery Sweetens Up Downtown Burlington
Haw River Ballroom: Bringing Music and Events to Saxapahaw
Owl and Rabbit Gallery Brightens Burlington with Whimsical Art and Gifts