Downtown Burlington is bustling with activity. Walk the streets and you'll see historic buildings being renovated, newly opened businesses and the signs of more on the way. Artist and entrepreneur Emily Lewis is driving much of the recent development. The metal sculptor owns Owl and Rabbit Gallery, a gift shop and art gallery that features bright, nature-inspired works by local and national artists. Owl and Rabbit Gallery is the first of several new ventures that Lewis and her husband have planned for downtown Burlington.
Art Influences  
Emily Lewis comes from a family of artists and makers in Hillsborough, NC. Her mother is an artist and a writer. Her stepfather operated a metal fabrication shop, where Lewis would often lend a hand as a youth. She later earned a Bachelor of Fine Arts in metal sculpture from The University of North Carolina at Greensboro.
"I didn't want to do metal work because I always had to do it as a chore growing up, helping in the family workshop," Lewis says. "However, as I got into the art department at UNCG, I just was naturally drawn to metal sculptures because that's what I knew and felt comfortable with. I enjoyed it more than the other mediums."
While at UNCG, Emily met her future husband Casey Lewis, who also majored in metal sculpture. After marrying in 2000, the couple bought a house and 10 acres of land in the Pleasant Grove community. They began creating metal artwork in a backyard workshop, and launched Beechwood Metalworks, a custom fabrication shop that specializes in metal art and sculpture, in 2004. 
Rising from the Ashes
Three years after founding Beechwood Metalworks, a fire completely destroyed the Lewis's workshop. With help from the Alamance County Arts Council and the local community, Lewis and her husband rebuilt their business and moved it to a nearby 10,000-square-foot workshop. They soon landed their first major project — 27 unique sculptures for St. Francis Children's Hospital in Tulsa, OK. 
"We would have never been able to do that had we not grown into a bigger building. We wouldn't have grown into a bigger building had we not had the fire," Lewis says. "A lot of things kind of fell into place."
In 2015, Lewis and her husband moved Beechwood Metalworks into an even larger building on West Webb Avenue, approximately two miles from downtown Burlington. As the business grew, Lewis's role evolved from metal fabrication to painting and finally to management.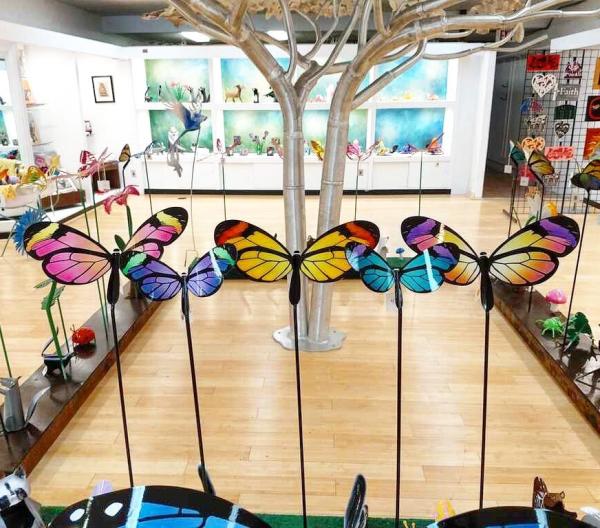 Owl and Rabbit Gallery
As the popularity of their artwork grew, Emily Lewis and her husband began opening the Beechwood Metalworks workshop to the public at Mother's Day and Christmas each year.
"People would wait all year until those two times. We always had crowds of hundreds of people waiting to buy them," Lewis remembers. "It got to the point where we had lots of people wanting access to them throughout the year."
To meet the burgeoning demand, they initially created a small retail space inside their workshop. As business continued to grow, Lewis decided to establish a dedicated retail store in downtown Burlington. She opened Owl and Rabbit Gallery in 2018.
Making People Smile
Owl and Rabbit Gallery features a variety of artwork from several local and national artists, ranging from paintings, pottery and textile art to toys, jewelry and more. Of course, metal sculptures and art from Beechwood Metalworks are always a hit with visitors.
"You can get a nice heirloom quality piece for your home, something you'll pass down for generations that's handmade by a local artist," Lewis says. "Or you can come in and get a fun card, and a small gift for a birthday, wedding or baby shower. We've got a price range from five dollars up to thousands of dollars. There's something for everyone within the store."
Lewis tries to rotate the featured artwork and keep it fresh so visitors can discover something new each time they return. She and her team also pride themselves on sharing the history of the artists and the stories behind the artwork with customers.
"The store really focuses on colorful, whimsical and nature-inspired art, which is kind of what our work centers around—making people smile. We wanted the store to really lift you up with the feeling of the art," Lewis says. "It's approachable art. We didn't want it to be art that you were scared to touch or that you felt was out of your price range. We wanted it to be approachable, fun art. Burlington has really supported it."

Growing in Downtown Burlington 
Earlier this year, Emily Lewis and her husband purchased three properties on South Spring St. in downtown Burlington. They plan to offer artist lofts along with office spaces in some of the buildings.
In the spring, they moved Owl and Rabbit Gallery into one of the historic buildings. They also built an online store for Owl and Rabbit and began offering shipping and curbside pickup.
The couple is currently working to open Carolina Sundries, a combination general store, specialty grocery and lunch counter, at 404 South Spring Street in early 2021. 
"We want to have a place where you can pick up groceries if you don't want to go all the way into town. We're really going to focus heavily on local and organic, and try to support as many local farmers and vendors as we can," Lewis says. "It's going to have the feeling of a general store when you walk in—a nostalgic feel. You can find gifts and necessities for your home. We also want to offer a lunch counter where you can pick up a quick, grab-and-go breakfast. These offerings will be clean and healthy and made from local ingredients."
Bright Future
Even with all that they have accomplished so far with Owl and Rabbit Gallery and Beechwood Metalworks, Emily Lewis looks forward to helping downtown Burlington continue to grow. 
"Our downtown has so much potential. I can look at it and see something in every empty spot. The fact that there's three construction dumpsters sitting outside right now, in various locations in downtown means that there's stuff happening, which is fantastic," Lewis says. "I'm just excited to see what's going to happen and I'm excited to be invested in downtown financially with these buildings and our businesses. We really hope that more people will follow suit and take that plunge because the more that we fill in downtown, the more solid it becomes. It's just so much more of a community feel to walk around in a downtown."
Learn more about Owl and Rabbit Gallery at OwlandRabbitGallery.com, and follow them on Instagram and Facebook.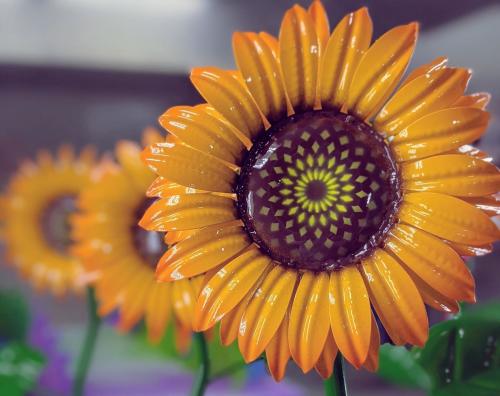 Upcoming Events
Owl and Rabbit Gallery will be holding their annual Christmas open house again this year. The event always takes place the Saturday after Thanksgiving. To keep guests and employees safe during this year's event, Owl and Rabbit will have social distancing and other safety measures in place. Guests will need to pre-register for the event online, which will help prevent overly large crowds. 
---
MEET MORE WOMEN OF THE YEAR
At Home in Alamance with an Award-Winning Winemaker
A Passion for Growing Seedlings and Community
Replenishing the Land at Reverence Farms
Growing the Guest Experience at TerraStay Farm
Graham's Forgotten Road Ales is One Brewery You Won't Forget
Grit and Grace Mixes Art with Edgy Fashion in Downtown Mebane
GeGe The Neighbor Cupcakery Sweetens Up Downtown Burlington
Haw River Ballroom: Bringing Music and Events to Saxapahaw