What's a perfect day in Saxapahaw like? Enjoy breakfast at The Saxapahaw General Store, which offers more than a hearty and soulful meal. Grab a cup of coffee at Cup 22 and sit on the balcony, enjoying the views of the town below.
Rent kayaks or a canoe from Haw River Kayak and ride down the Haw River, which winds through rural and urban areas and provides a peaceful escape from a fast paced life. Haw River Kayak also offers guided tours and classes so you can get the most from your trip. If you haven't gotten enough of the beautiful nature surrounding Saxapahaw, hop onto one of the Haw River Trails for a hike or walk. Saxapahaw Island Park sits in the heart of Saxapahaw and offers walking trails, a playground and access to the nearby river. Kids will love playing on the wooden fish slide that measures from head to fin 45 feet long.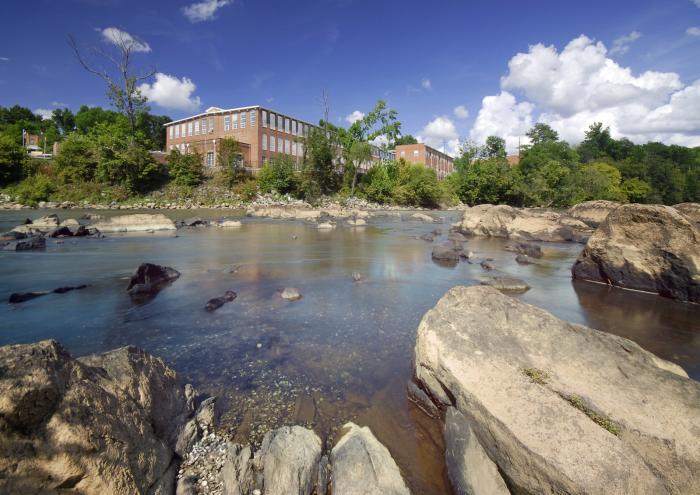 Grab a refreshing drink at Haw River Farmhouse Ales. The Ales at Haw River Farmhouse Ales are crafted in the Belgian tradition but influenced by local ingredients. Sample a flight or take home a case. For lunch The Eddy Pub is the perfect mix of elevated food and southern charm. The Eddy Pub sources their food from local farmers including Left Bank Butchery, a great stop for local meat and more. 
Check out Freehand Market for eco-friendly and locally made art, crafts, organic and natural face and body products and more. The Saxapahaw Museum is open during the week and on Saturdays by appointment. Learn more about the history of the Saxapahaw Cotton Mill and the Jordan family history. 
If it's a concert you are after, the Haw River Ballroom hosts an impressive line-up of well-known bands and some newly emerging artists. The Haw River Ballroom, converted from a mill, is a gorgeous venue for live music and for any special event, including weddings.