Check out the thriving community of Graham and you'll want to spend a day here. Start your day at Press Coffee+Crêpes for delicious coffee and a European style crepe, which you can order sweet or savory. Head over to Alamance Arts and experience the latest exhibits showcasing local artists. Inside Alamance Arts you'll find Picasso's gift shop, which houses unique local artwork for sale. From paintings to pottery to hand-made jewelry, you'll find something exquisite to take home with you. Outside on the lawn of Alamance Arts sits a J. Seward Johnson statue labeled "Embracing Peace", measuring 25 feet tall. The statue depicts the well-known photograph of a navy soldier kissing a nurse after World War II. The statue is on loan to the museum and well worth seeing while it's here!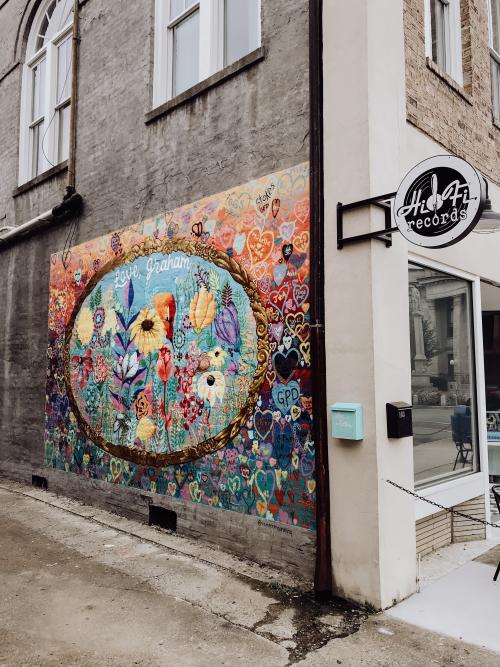 For lunch a stop at Smokehouse at Steve's is a must. It's a southern style, scratch kitchen with a huge wood fire smoker, where the meat is smoked to perfection. With house made brisket, pork, chicken and all the southern sides you will be in BBQ heaven. Head back downtown Graham to check out HiFi Records, who are bringing the vinyl experience to Graham with craft beer on tap, a selection of wine and a relaxed living room atmosphere. For an old-timey experience, enjoy lunch at the Graham Soda Shop where you can get an old fashioned hamburger and milkshake served in a classic soda shop style environment. Afterwards you can catch a movie at Graham Cinema, a family-owned historic theater in the heart of Downtown. For shopping, you 'll want to check out The Main Line for up-cycled and re-purposed finds or browse some of the other downtown boutiques.
If you are looking for a night on the town you'll have to stop by Fitzgerald and Faulkner. It's a Southern cocktail haunt in an intimate, relaxed setting and the cozy atmosphere also boasts incredible drinks with house made ingredients. If a local brewery is more your style, visit Forgotten Road Ales, a small craft brewery & taproom specializing in barrel aged beers, wild and sour beers, & hazy IPAs. Dinner at The Verdict on the Square, near the county courthouse, will leave you convinced that Graham is truly a great place to visit. 
Graham is located off Exit 147 on I-40.