GeGe The Neighbor is not your typical neighborhood bakery. The popular downtown Burlington cupcakery features unique recipes, specialty flavors and creative designs dreamed up by owner and baker extraordinaire Geniece Bey. Since opening GeGe The Neighbor in 2019, Bey has developed a devoted following, hungry for her gourmet cupcakes, custom cakes and desserts, including the legendary Over The Top Milkshake that is topped…with a cupcake.

Sweet Memories
Geniece Bey grew up one of six children in Durham, NC. Some of her fondest childhood memories involve baking with her mother. Each Sunday, she would help her mom bake a cake for the family dinner.
"While my brother and sisters were outside playing, I was the one in the kitchen, stirring cakes with her, so it definitely came early on," Bey remembers. "I've always had a love of food. I think it comes down to family because food always brings people around. It brings them together."
Ingredients for a Career
As a student at Durham School of the Arts, Geniece Bey trained in a variety of visual arts, including drawing, painting and photography. She expanded her culinary knowledge by working in the freshman diner at Duke University as a teenager. Each summer, Bey attended a business camp, where she learned the essentials of operating a small business. She went on to major in business administration at Winston-Salem State University.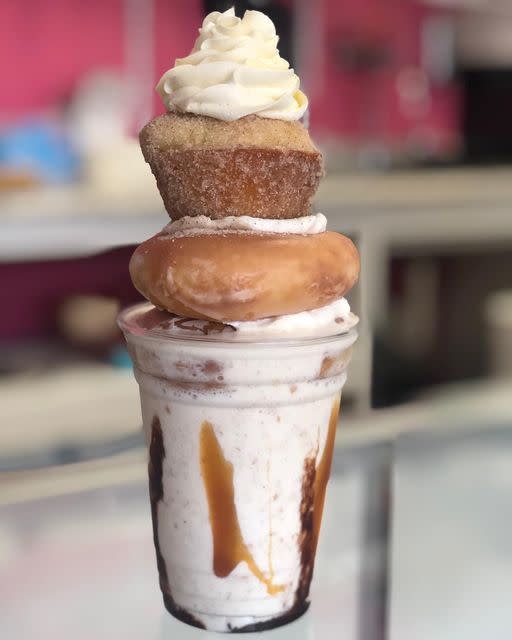 "I always knew I wanted to own my own business," Bey says. "I just didn't know what kind of business."
After college, Bey continued to bake cakes with friends and family members, who encouraged her to offer her creations to the public. Although hesitant at first, she started selling cupcakes from her sister's home on weekends. 
Bey eventually purchased a food trailer, which she took to pop-up events across Alamance and Durham Counties. Drawing upon her experience from Durham School of the Arts, Bey began designing ornate custom cakes for customers.
"When you're making a professional custom cake, it's all about aesthetics. It's how it looks. Of course, it's definitely about how it tastes, but people eat with their eyes. If it looks appetizing, then they'll eat it," Bey explains. "That's how Durham School of the Arts influenced me because I learned early on how to make things look as though they are."
Opening a Bakery in Burlington
When Geniece Bey moved to Alamance County three years ago, she decided to expand her business by opening a brick-and-mortar storefront. She carefully searched for the ideal spot. After walking every block of downtown Burlington, she knew she had found the perfect location because it reminded her of downtown Durham just prior to that city's exponential growth.
Bey opened her bakery, which she named GeGe The Neighbor, on May 12, 2019. The name "GeGe" is the nickname Bey's nieces gave her. "The Neighbor" is a reference to the time Bey and a close friend were baking pies on Easter and Bey decided to bake an extra pie for some of her new neighbors.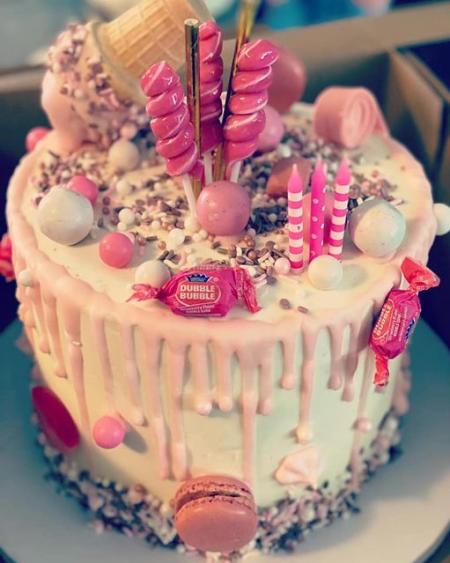 "I did not know that we would blossom into this beautiful staple in downtown Burlington. We were welcomed with open arms from so many business owners,'" Bey says. "I've gotten so many people reaching out to me saying, 'Hey, I want you to come to our event. Pop up at our event. I want you here!' To me, that's Southern hospitality at its finest. Burlington has been amazing. It really has."
Constantly Creating
Bakeries are often known for their staples that never really change. Geniece Bey wanted to shake up that tradition. She designed her cupcakery specifically so that she could rotate her menus and offer new choices to her customers on a regular basis.
"The most exciting part about baking is being able to create. I am a creator by nature, so I wanted to be able to do something that was fun. I can change it when I want to. And that's exactly what I'm doing," Bey says. "With baking, it's also a science and that's something I enjoy, because one wrong ingredient and your whole cupcake, or whatever you're baking, is ruined. I enjoy the outcome and the creativity of decorating."
Local Collaborations
GeGe The Neighbor often partners with other Alamance County businesses. In March, Bey launched their Over The Top Milkshakes that feature ice cream from Alamance County's own Smitty's Homemade Ice Cream. The milkshakes, which are topped with a cupcake, have become one of Bey's most requested desserts. 
Geniece Bey often works with BeCute Imporium, a local vendor market that supports small-business owners, to host pop-up shops as well as her Bake and Sip events, where participants can enjoy wine while learning to decorate cakes. She also holds pop-up events at Need-Ah-Basket Gifts & More, a gift shop and boutique in Burlington.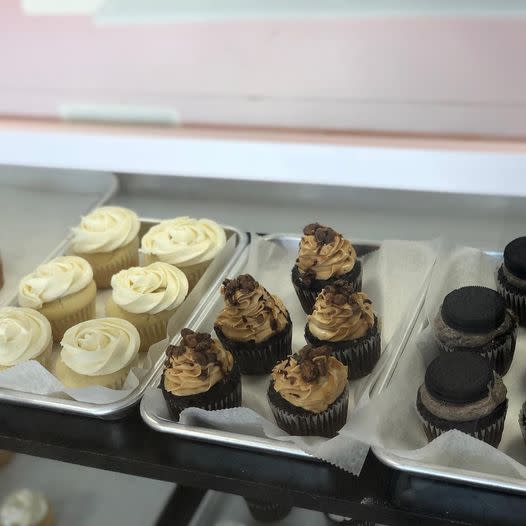 Booming Business
Fortunately for Bey, the COVID-19 pandemic didn't slow the demand for her gourmet cupcakes and other baked goods.
"We definitely have seen an uptick in business in custom cakes," Bey says. "People are still having parties, maybe smaller than they usually would, but they're just looking for any reason to celebrate at this time."
Bey began using delivery services such as Grub Hub and Uber Eats to ensure that her customers could continue getting their cupcake fix during the pandemic. She has also reopened the bakery to the public. Customers can order online or by calling 336-514-0153. 
Learn more about GeGe The Neighbor and place an order at GeGeTheNeighbor.com.
---
MEET MORE WOMEN OF THE YEAR
At Home in Alamance with an Award-Winning Winemaker
A Passion for Growing Seedlings and Community
Replenishing the Land at Reverence Farms
Growing the Guest Experience at TerraStay Farm
Graham's Forgotten Road Ales is One Brewery You Won't Forget
Grit and Grace Mixes Art with Edgy Fashion in Downtown Mebane
Haw River Ballroom: Bringing Music and Events to Saxapahaw
Owl and Rabbit Gallery Brightens Burlington with Whimsical Art and Gifts