Sonya Weavil is a driving force behind Alamance County's burgeoning agritourism scene. The Pennsylvania native co-owns TerraStay, a premier farm-stay destination located a mere stone's throw from the scenic Haw River in Saxapahaw. With the help of her husband and two daughters, Weavil manages the working organic farm, which features four well-appointed guest cottages and several sheep that love to be petted by visitors.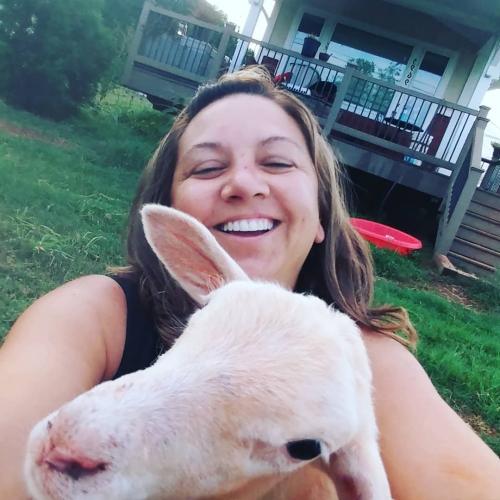 A Retirement Plan 
Since her days as a biology and nutrition major at NC State University, Sonya Weavil has dreamed of opening a bed and breakfast on an organic farm. After graduating in 1999, she gained experience in the hospitality industry and spent more than a decade working in the wine industry and studying viticulture.   
Weavil's agritourism vision finally gained traction in 2018 when her husband began to ponder retirement. He currently works in law enforcement and is scheduled to retire in approximately six years. Looking at various ways to spend his time after that, he considered firefighting and farming. However, Weavil wasn't keen on the idea of her husband trading one dangerous profession for another. 
"My husband comes from a farming background in western North Carolina," Weavil says. "I thought farming would be great because it would be neat to sleep at night and not worry about him at his job." 
While working at Reverence Farms in Saxapahaw, Weavil began to actively search for a farm in Alamance County that she and her husband could purchase. Around that same time, the founders of TerraStay, Tony Gaddis and Mike Ortosky, made the decision to consolidate their farming operation. Gaddis took full ownership of TerraStay in 2018. He needed immediate help with distribution, so he contacted Sonya Weavil, who had a background in both distribution and business development.  
The two met and during the conversation that ensued, Gaddis mentioned that he might sell TerraStay. The next day, he gave Weavil a tour of the farm—which led to a handshake deal on the spot. She and her husband agreed to purchase the entire operation. A few weeks later, they moved to TerraStay. 
Smart Planning and Planting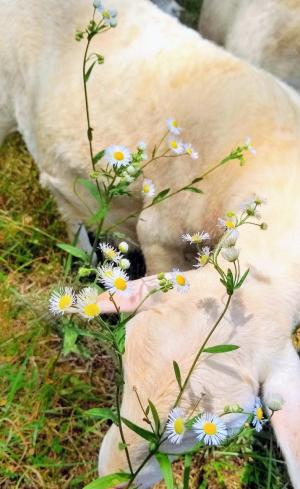 The unexpected opportunity to buy TerraStay didn't give the Weavils, who still had full-time jobs, much time to prepare. They literally became farm owners overnight. 
"I'm a planner, and so is my husband. But the way everything fell together, we didn't have time to plan what we'd be farming, so it's been a lot of learning—rapid learning," Weavil explains. "We knew that we wanted to do it organically, as much as possible. We started doing a lot of research on perennials because this is an active retirement project for us. It was something that I want to be able to do, but I want to make sure that we also do some smart planning and planting." 
Fortunately, Weavil had help from her two daughters, Hayden and Jordan. Hayden is learning farming and farm management and just completed her studies at UNCG. Jordan attended culinary classes and trained under Chef Jeff Barney at the Saxapahaw General Store and Chef Howard Allen at Reverence Farms Cafe. She practiced for four years before pursuing art and graphic design. 
Inside the Farm 
Today, TerraStay features three 96-foot-high growing tunnels in which Weavil cultivates a variety of plants, including microgreens and baby greens. The tunnels are ideal for raising annual specialties such as heirloom tomatoes, sweet seedless piccolino cucumbers, chioggua beets and super sweet baby mixed color carrots.  
Outside in the perennial gardens, Weavil grows artichokes, onions, leeks, culinary herbs, and more. She also raises Purple Passion asparagus, blackberries and six varieties of blueberries. This fall, TerraStay visitors will be able to purchase their produce at a new road-side farm stand that is under construction. 
Of Wine and Sheep 
Sonya Weavil has a passion for sheep and vineyards that goes back to the time she spent living in New Zealand. In February 2021, the TerraStay team will plant their first vineyard. It will feature local heritage grape varieties and vinifera. To help maintain the vineyard, Weavil will incorporate their flock of sheep.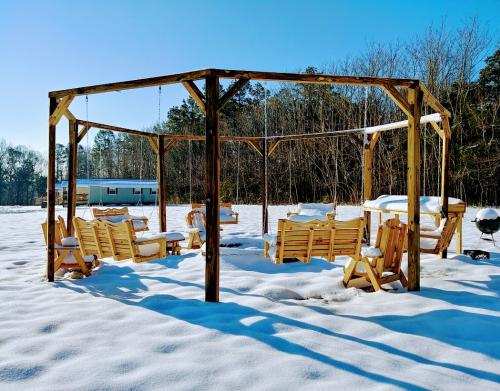 "There's a lot of labor—especially in North Carolina—in vine production. It's one of the reasons North Carolina wines are so expensive," Weavil says. "The cost of the equipment and everything else is the same, but we have to prune back our vines so often. Our intention is to use the sheep to help do that work." 
The sheep, which came from Reverence Farms, are one of TerraStay's most popular attractions. Because they were bottle-fed when young, they are unusually affectionate toward humans.  
"The sheep love to be petted. They are a really big draw. At least 60 to 70 percent of our guests ask, "Can we meet the sheep?" Weavil says. "They all have their names and they all have personalities. They're listed as a highlight in many of our reviews, and we have over 300 reviews." 
Part of the TerraStay Story 
As Weavil and her family have expanded the hospitality offerings at TerraStay, a unique trend has emerged. TerraStay's guests are often repeat customers. After enjoying their initial stay, they continue to come back. 
"Our guests like feeling involved in our progress and story.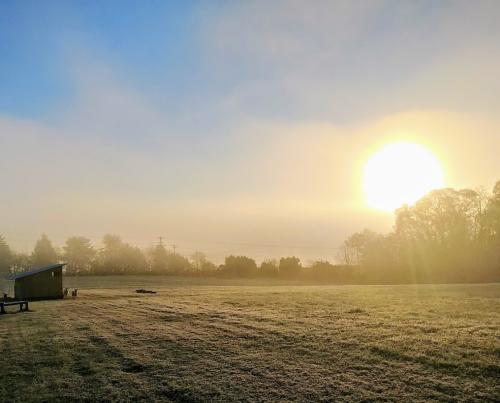 They express excitement watching the farm evolve into its destination state. We have had many aspiring farmers and repeat visitors who have really enjoyed seeing projects completed and re-visit to see what's happening now," Weavil says. "In fact, our guest tonight is on her fourth visit. Guests that checked out today were here for the third time. On Saturday, we had two repeat guests with two visits and four visits respectively, and two first-time guests." 
What to Expect 
TerraStay currently offers four cabins for guests. Each features a long list of amenities, including hickory hardwood floors, a kitchenette with refrigerator, induction stove top and mini convection ovens. Visitors can fall asleep on sheets that are 600 – 800 thread count Egyptian Cotton or Sateen. They can also place an order online prior to arriving and TerraStay will stock their refrigerator with local, fresh foods, including produce, cream line milk and heritage-breed pasture-raised meats. 
In addition to the cottages, TerraStay offers a tiny house/RV site with a hookup. They will be adding four more sites next year as well as bringing back primitive camping options next spring. 
Guests are free to explore the farm and hike the nearby Haw River Trails. TerraStay offers complimentary bicycles, and guests can take a paddleboard tour of the Haw River for an additional fee.  
Upcoming Events 
TerraStay will be hosting their annual Adventure Race, 5K Farm & Trail and Kids Farm Dash in October. Due to social distancing requirements, this year's races will be scaled down and feature a seeded start. Weavil is planning a pop-up farm dinner to coincide with the races. A maximum of 50 guests will be seated at tables of two, four, or six for distanced requirements. 
TerraStay also offers the opportunity to rent the entire farm for private events. The special package includes all four guest cabins for three nights, along with a variety of additional products and services, including optional set-up and post-event cleanup for additional fees.  
Learn more at TerraStay.com. 
Extensive Cleaning Protocols 
TerraStay is going above and beyond to meet, or exceed, all CDC and health department COVID-19 guidelines for cleaning the guest facilities. To learn more, visit TerraStay.com. 
---
MEET MORE WOMEN OF THE YEAR
At Home in Alamance with an Award-Winning Winemaker
A Passion for Growing Seedlings and Community
Replenishing the Land at Reverence Farms
Graham's Forgotten Road Ales is One Brewery You Won't Forget
Grit and Grace Mixes Art with Edgy Fashion in Downtown Mebane
GeGe The Neighbor Cupcakery Sweetens Up Downtown Burlington
Haw River Ballroom: Bringing Music and Events to Saxapahaw
Owl and Rabbit Gallery Brightens Burlington with Whimsical Art and Gifts