Janée Farrar loves craft beer. Likewise, she loves sharing her passion for craft beer with others. The Certified Cicerone (beer expert) and beer blogger opened Forgotten Road Ales—Graham's first brewery—with her husband in 2019. Since then, Farrar has been working hard to grow their business and promote the town of Graham as a regional and national destination for beer enthusiasts. 
Bonding Over Beer 
Craft beer helped bring Janée Farrar and her husband Ben together. The couple met 11 years ago in Altoona, PA, one week after Ben had homebrewed his first batch of beer. On their first date, they bonded over their love of craft beer. Ben encouraged Janée, who has a background in journalism and communications, to pursue writing a beer blog after their visit to a Pittsburgh bar. She soon started the blog, which she aptly named We Beerlong Together. 
"We love beer. One of the things that we both liked about each other when we first met was that neither of us drank garbage beer," Farrar says. "Our love of beer and each other just grew together." 
A year later, Ben was stationed in Afghanistan while serving in the Marine Corps. He told Janée that he wanted to open a brewery once he returned home. 
Embracing Alamance County 
After Ben left the Marine Corps, a job transfer brought the couple to Alamance County in 2014. They settled into their new surroundings over the next few months and spent time getting to know the local community. That's when they decided to take the leap and open a brewery in downtown Graham. 
"Graham would be the place that I would choose over and over again. The state of North Carolina as a whole is a really great state for beer. The beer scene here is really good despite some prohibitive legislation. It's actually a lot better than Pennsylvania. Graham, in particular, is great," Farrar explains. "My favorite thing about Graham is the community. There just seems to be a kind of fabric that exists here. We all have a sense of pride in the area and it doesn't come from old ideas. It comes from vision and from what we see for the future. It comes from caring about the future, caring about progress and different people's ideas and being inclusive." 
Starting any new business can be tough, especially if it's the first of its kind in a small community. Despite the many obstacles, Janée Farrar and her husband forged ahead, opening Forgotten Road Ales in 2019. 
"We were really well received by the community—even better than we had expected. We had to build our business model around the community being willing to support us," Farrar says. "We were pleasantly surprised on the day that we opened to have a really great, diverse crowd walk in the door. Some of them already knew about us, or had heard good things about our beer." 
Remembering Those Who Serve 
The name Forgotten Road Ales is a tribute to veterans and everyone who is currently serving in the military. It's also a metaphor for how servicemen and -women often feel when they return home from deployment. The branding and logo design are based on Ben's final rank of Staff Sergeant in the Marine Corps.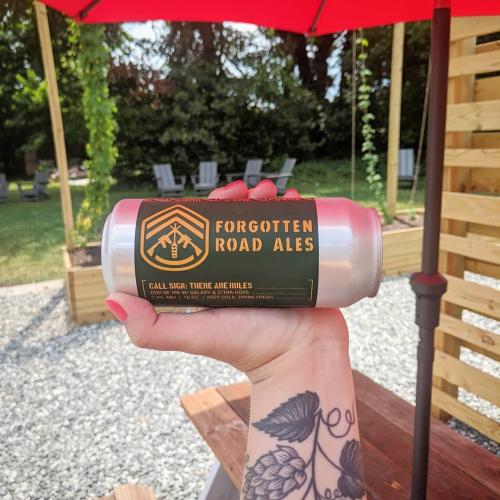 "We wanted Forgotten Road Ales to be a place where everyone feels welcome," Farrar says. "We want to be a place that people really love locally and they feel like that's their home, but we also wanted to be a place that people around the United States knew about and will want to travel to." 
Helping Grow Graham 
Janée Farrar champions the town of Graham every chance she gets. She frequently collaborates with other Alamance County businesses and helps assemble and promote local events. She also religiously shares the #LoveGraham and #ThisIsGraham hashtags through the brewery's social media channels. 
"It's always come easily to me to be loud and proud about something that I really love. I wanted to share what I discovered in Graham with other people. I wanted other people to see what I saw in that place," Farrar says. "Lifting up other businesses is something that is important to us. We always encourage people to stop at other spots in Graham. I think when people see that there's not just one spot to go to, when they see they can make a day out of this, it brings people here." 
Come for the Beer, Stay for the Events 
To help bring visitors downtown, Farrar organized Graham's first-ever bar crawl. The event took place on Halloween of 2019 and featured six local bars. By all counts, the bar crawl was a resounding success for the community and a financial highlight for each of the businesses that participated.  
"That was probably the first time that I knew we had done something good and brought people into Graham and shown them what it really was. There were people from Chapel Hill and people from Durham," Farrar says. "I remember being in Durham a week later at a store and I had a Forgotten Road Ales shirt on. A woman working at the store said, 'I was just there for this bar crawl the other week!' It was really cool to hear people who don't live here want to come to Graham."  
Forgotten Road Ales continues to host regular events, including weekly food trucks. They recently held a three-part educational series and fundraiser called Beer Garden Ales with Wild Tails. The event, which featured a blue and gold macaw, a Burmese python and a Bennett's wallaby, raised money for Wild Tales, LLC, an animal rescue center located in Snow Camp.  
You can learn more about Forgotten Road Ales and get the details on upcoming events at Facebook.com/forgottenroadales.  
---
MEET MORE WOMEN OF THE YEAR
At Home in Alamance with an Award-Winning Winemaker
A Passion for Growing Seedlings and Community
Replenishing the Land at Reverence Farms
Growing the Guest Experience at TerraStay Farm
Grit and Grace Mixes Art with Edgy Fashion in Downtown Mebane
GeGe The Neighbor Cupcakery Sweetens Up Downtown Burlington
Haw River Ballroom: Bringing Music and Events to Saxapahaw
Owl and Rabbit Gallery Brightens Burlington with Whimsical Art and Gifts