Lipstick, Whiskey and Rock & Roll. The message on the custom-designed tank top perfectly captures the vibe of Grit and Grace, Angela Bobal's hip artisan boutique in downtown Mebane. Featuring women's clothing, accessories, and handmade artwork with a rock-and-roll flair, Grit and Grace is the type of shop that Stevie Nicks or Sheryl Crow would frequent. For Bobal, it's the culmination of years of hard work and undaunted determination — mixed with a whole lot of fun.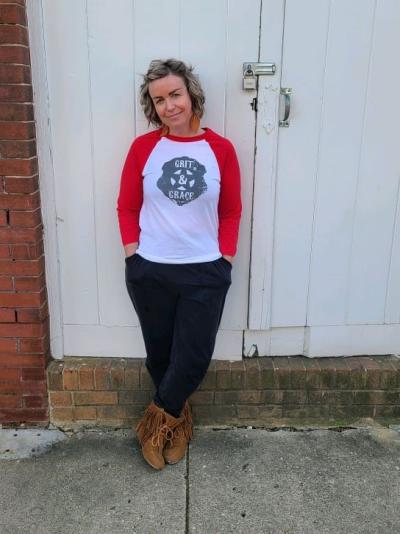 A Fresh Start 
Originally from Conesus, NY, Angela Bobal moved to North Carolina in 1995 to work for the Durham Police Department. Bobal went on to serve as a Durham police officer for nearly 10 years. Needing some relief from the stress of her job, she decided to take up a hobby — making soap. 
Despite no formal training, Bobal began producing small batches of glycerin-based and vegetable oil-based soap on the stove in her kitchen. After a year of testing with friends and family members, she began selling her soaps at craft shows. 
"It definitely did not start out being as pretty as it is now," Bobal says. "It was just trial and error, but it ended up paying off." 
When Bobal had two daughters, she decided to spend more time at home with her young family. She turned in her badge and transformed her soap-making hobby into a full-time profession. 
Leap of Faith 
In addition to crafting soap, Bobal began creating eclectic artwork using salvaged materials. She sold her products online, at craft shows and eventually to retail stores in Alamance County. Then one day, she discovered an unexpected opportunity to start her own brick-and-mortar women's shop in downtown Mebane. 
"I had two weeks to fill it, get it ready and open, and I just jumped. I had no money saved. I had no plan to open the store," Bobal says. "Grit and grace — I feel like people are made up of both of those things, especially females. We're all made of grit and grace, so that is how the name came about." 
Bobal opened Grit and Grace in December 2013 and never looked back. 
Artisan Boutique 
Today, Grit and Grace offers a wide selection of women's clothing and accessories, many of which are made locally. Bobal also sells handmade jewelry, photography, candles and, yes, her ever-popular soap. Hand-cut and hand-stitched leather accessories are one of her bestsellers. The bold t-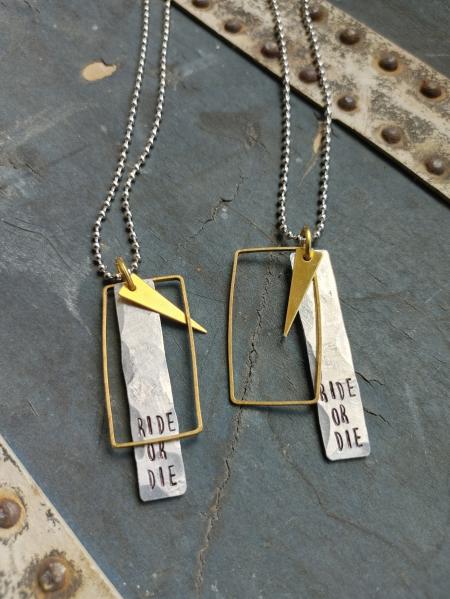 shirts and tops designed by Grit and Grace, including the "Lipstick, Whiskey and Rock & Roll" tank top, are also popular with customers. 
"My store is definitely a little more edgy than some of the surrounding stores. I work really hard to stay different from everybody," Bobal says. "My customers are so extremely loyal. They really love that my business model is handmade items. I work with a lot of artists. It's been interesting to see that trend over the last few years become more important to buyers. They want to know who made this? What's the story behind it? I really love that and Mebane has been wonderful in supporting it." 
Only in Downtown Mebane 
Location is a key ingredient for operating any successful retail business, especially a boutique clothing store that depends on a steady stream of visitors. Downtown Mebane was the only place that Angela Bobal ever considered for her business. Seven years after opening Grit and Grace, she remains quick to praise the area. 
"It has a unique small-town charm with artisans, different shops, great food and friendly people. The community is very supportive of downtown Mebane. When you are down here, you feel the love of the community," Bobal says. "The downtown stores offer things that you can't find at the outlets, or at a big-box store. Most of the store owners are in their stores, so you always get to meet the owner. I think that is important, too. It's a more personal shopping experience." 
Business is Bubbling 
When the COVID-19 pandemic spurred an increased demand for all types of cleaning products, including handmade soap, Bobal pivoted back to her roots. She has been selling 600 to 700 bars of soap each week. She now makes the soap onsite at her store using an industrial stainless-steel cooker. Even with the upgraded equipment, soap making is still a consuming task. Producing 500 – 600 bars of soap normally takes Bobal at least two days.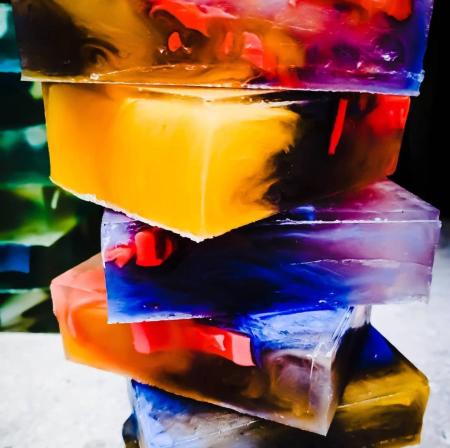 "It's a little crazy that I went right back to where I was at 20 years ago starting my business. It's been a challenge to myself to do batches of 12, and they're a different scent every week. I haven't repeated any yet, but I'm sure I will have to. I'm going to run out eventually," Bobal explains. "My boutique has a slew of other items, but lately, the soap has really been the core of what has allowed me to stay open and do well during COVID."
Upcoming Events 
Prior to COVID-19, Bobal held regular in-store events for her customers. She would often partner with other local businesses, including Filament Coffee. The events featured unique themes and provided a way for Bobal to introduce new artists and merchandise to Grit and Grace customers.  
With the ongoing pandemic, Bobal has been hosting a virtual shopping experience on Facebook Live each Friday at 7:00 pm. Guests can join the event and purchase items in real-time. The Grit and Grace store is also open in downtown Mebane from 11:00 am – 3:00 pm, Wednesday to Saturday. 
Learn more at Grit and Grace's Instagram and Facebook.
---
MEET MORE WOMEN OF THE YEAR
At Home in Alamance with an Award-Winning Winemaker
A Passion for Growing Seedlings and Community
Replenishing the Land at Reverence Farms
Growing the Guest Experience at TerraStay Farm
Graham's Forgotten Road Ales is One Brewery You Won't Forget
GeGe The Neighbor Cupcakery Sweetens Up Downtown Burlington
Haw River Ballroom: Bringing Music and Events to Saxapahaw
Owl and Rabbit Gallery Brightens Burlington with Whimsical Art and Gifts