The Haw River Ballroom in Saxapahaw is one of North Carolina's most popular live music venues—cherished by both musicians and concertgoers. Founded by community activist Heather LaGarde, the Haw River Ballroom has hosted nationally renowned music artists and global events since opening in 2011. Although the former cotton mill dyehouse remains closed to the public due to COVID-19, LaGarde has been booking film shoots and working behind the scenes to ensure the sounds of concerts will once again fill the Haw River Ballroom. Bringing people together is a passion for LaGarde and her life's calling.
Event-Filled Education
Heather LaGarde was born and raised in Chapel Hill, NC, but she learned how to manage large international events, including concerts, conferences and film
festivals, while living abroad. As a student at Bard College in upstate New York, LaGarde participated in an international relations study program that took her to Geneva, Switzerland and West Africa. After college, LaGarde moved to Geneva and then to London, where she produced films about human rights and the environment. She eventually returned to New York to manage the Human Rights Watch Film Festival.  
"I did a lot of consultancies for UN initiatives and different global nonprofit projects," LaGarde recalls. "They always had some kind of an art component or an events component to them, because I believe you can really bring people together that way. I could never have seen that the path would take me to Saxapahaw, but I'm so glad it did."
While living in New York City, Heather met, and later married, former UNC basketball standout and NBA player Tom LaGarde. After witnessing the destruction of the World Trade Center on Sept. 11, 2001 from the roof of their Lower East Side home, the couple decided to leave the city behind. They purchased a farm near Saxapahaw and moved their growing family to Alamance County.
Saturdays in Saxapahaw
When Heather and Tom LaGarde first arrived in Saxapahaw, the village was in the early stages of a major renaissance. Developer Mac Jordan and his family had begun converting the former cotton mill into business and living spaces. To support the revitalization efforts, LaGarde and her husband launched an outdoor music series called Saturdays in Saxapahaw.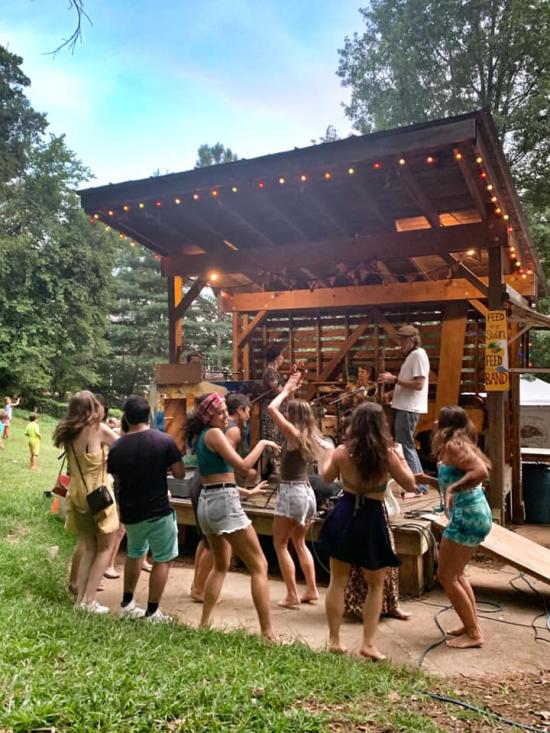 For 16 years prior to 2020, Saturdays in Saxapahaw attracted 1,000 to 1,500 people each weekend during the summertime. The series, which is free to the public, features live music, a farmer's market, food trucks and a variety of activities for youth. 
"I get about 400 bands applying to play every year in the 17 spaces that I can book," LaGarde says. "It's been a great way of bringing people to the community throughout the summer. It certainly helps introduce people to the wonderful businesses and beauty of Saxapahaw."
Buoyed by their success, LaGarde and her husband decided to tackle an even larger live music project—the Haw River Ballroom.
Building the Ballroom
The Haw River Ballroom is an old soul. Before it became a premier event venue, the cavernous brick building on the bank of the Haw River served as a dyehouse for the Saxapahaw Spinning Mill in the early 1900s. Walking through the historic building, visitors can still see many remnants of the former textile mill. 
"I really don't think there's any other place like it, and we get that feedback a lot from artists. It's a beautiful, very large old space," LaGarde says of the three-floor facility that now features an auditorium, coffee shop and an outside deck and courtyard overlooking the Haw River. "We've tried to keep it as much like it was as possible to save all the old architectural salvage pieces and reincorporate them into a hybrid state-of-the-art facility with solar and geothermal elements that still looks like an old mill."
Opening Night Surprise
The Haw River Ballroom opened in 2011 with an unexpected, unplanned event. Popular folk duo Gillian Welch and David Rawlings had been scheduled to perform at a music festival in Wilmington, NC, but that event was cancelled at the last minute due to the approach of Hurricane Irene. Searching for an alternate location, Welch's manager called the yet-to-open Haw River Ballroom. LaGarde agreed to host the show—which sold out immediately.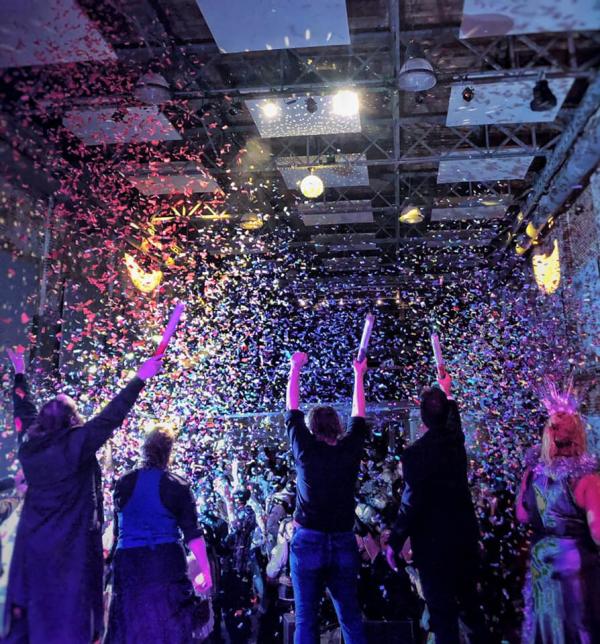 "We have a completely packed house and it's pouring rain outside. Gillian turned off all the lights, did a little tap dance and had the whole audience on all three floors singing I'll Fly Away together," LaGarde remembers. "I was standing on the third floor, doubled over, crying with happiness because we couldn't imagine it. You dream and you do things, and you hope that one day you attain what you envisioned. That was a nice way to start."
Takes a Village
While the Haw River Ballroom is best known for musical performances, LaGarde has hosted numerous conferences, charity and nonprofit events, film screenings and weddings over the years. Events held at the Haw River Ballroom are supported by neighboring businesses.
"We try as businesses and friends and neighbors to do as many collaborative projects as we can, whether it's cleaning up the river or free community events. We share expenses, and we share the organizational duties for those," LaGarde says. "All of our business spaces are built so there's like secret doors that open and close between us so that we can actually move amongst the insides of the big mill better. Whenever we do weddings, either The Eddy Pub or the Saxapahaw General Store is the caterer. When we have bands here, it's the same thing. We take them kayaking on the river, or on visits to local farms or to Haw River Farmhouse Ales Brewery next door. We try to have everybody coming to Saxapahaw really experience all of the different elements that are here."
Age of Adaptability
Since the COVID-19 outbreak, the Haw River Ballroom has faced the same challenges as other event venues across the country. For now, it remains closed to the public. To help sustain the operation, LaGarde has pivoted to hosting film shoots. Steinway Pianos recently shot promotional footage inside the Ballroom. A well-known band filmed a record release video and another group recorded an entire concert film recently at the Ballroom.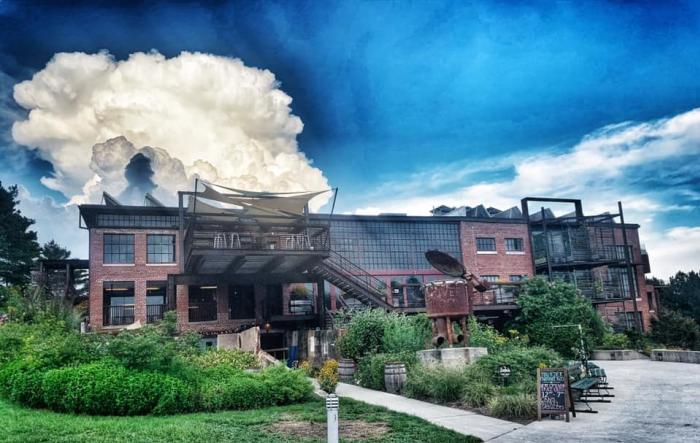 "We are really going to push hard for this to be a place where people film corporate films or music videos this year. We are planning to do these sort of quiet music-based film retreat sessions where people come in, rehearse for a week here and then record, but I don't think we're looking at doing any actual big shows until next October. If capacity goes up, we will be doing weddings again, but we have to wait to see," LaGarde says. "We're in a strategic and careful hibernation period. We're trying to use it to get as creative as we can, and fix everything up here so that when we can open, it will be really exuberantly and safely with big, open arms."  
Learn more at HawRiverBallroom.com and get the latest updates on Facebook, Instagram and Twitter.
SwitchPoint Conferences
In addition to operating the Haw River Ballroom, Heather LaGarde works with Chapel Hill-based IntraHealth International to produce a global health and innovation conference called SwitchPoint. The conference, which launched in 2011 at Haw River Ballroom, features approximately 70 speakers and typically draws up to 450 participants. 
"We bring in speakers from around the world: artists, musicians, policy heads, government heads, innovation specialists, entrepreneurs—all people trying to do something with innovation for good, and humanitarian design for global health," LaGarde says. "Then we take it around the world. Last year, we did it in Tokyo. We did it in Ghana and Rwanda. When I was in Rwanda, the first five speakers had already been to Saxapahaw. That was their only experience of the entire United States. I love that I'm in Rwanda running into people that only know Saxapahaw. I think this village is a beautiful representation of what our country has to offer."
---
MEET MORE WOMEN OF THE YEAR
At Home in Alamance with an Award-Winning Winemaker
A Passion for Growing Seedlings and Community
Replenishing the Land at Reverence Farms
Growing the Guest Experience at TerraStay Farm
Graham's Forgotten Road Ales is One Brewery You Won't Forget
Grit and Grace Mixes Art with Edgy Fashion in Downtown Mebane
GeGe The Neighbor Cupcakery Sweetens Up Downtown Burlington
Owl and Rabbit Gallery Brightens Burlington with Whimsical Art and Gifts