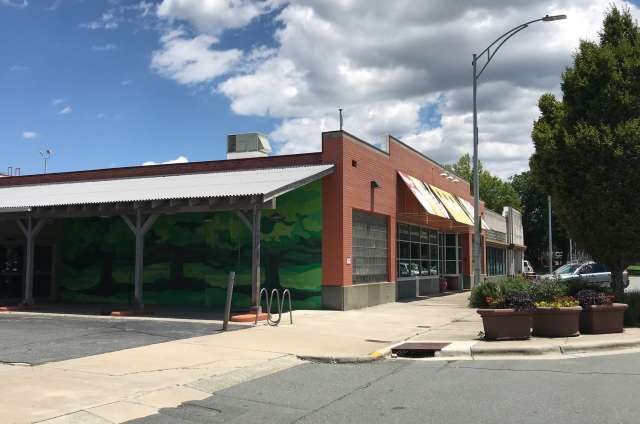 I was in the crowd at Fourth Friday in downtown Burlington on June 28, 2019 when I first got word of a big announcement to be made during a break in the music in the amphitheater at the Historic Depot. At dusk Wellsley Robinson, president of Core Properties took the stage and told those in attendance what would replace the former Company Shops Market a few blocks down Front Street.
Today that seems like a lifetime ago.
Since then we learned that time plays tricks in a global pandemic. We also learned about sheltering at home, quarantining, contact tracing, working at home, food deliveries, COVID-19 testing, COVID-19 vaccinations and troublesome variants. The Fourth Friday in September of 2019 was the last until this past Friday, July 23, 2021.
Stay at home orders in March of 2020 shut down restaurant and retail businesses. Plans for new operations were placed on hold. The Core Properties vision for the 12,000-square foot space at 268 E. Front Street was also in limbo. The much-anticipated Burlington Food Hall that Robinson announced more than two years ago would have to wait.
Now the wait is nearly over, Robinson said in a phone conversation on July 22, 2021. The Burlington Food Hall is expected to open in September. Robinson didn't specify a date but pointed to mid-September.
"Things are coming together. We're at one of our last hurdles, getting the kiosks inspected by the county health department," Robinson said.
Robinson said the Burlington Food Hall, which is a new restaurant concept for Alamance County, will have a lead restaurant and four individual kiosks offering a wide variety of food options. Food halls are like food courts or indoor food trucks. They have sprouted up in larger cities as a popular use for old downtown buildings.
Robinson announced in January 2020 that Go Burrito would be the lead and managing restaurant and that's still going to happen. It will also manage the bar. The first Go Burrito location helped revitalize downtown Salisbury and the Burlington site will be its third location, with others in the planning stages in North Carolina and Florida. Go Burrito already has a billboard on I-40/85 advertising its opening in Burlington.
"Go Burrito is rolling full speed ahead. They're putting paint on the walls this week," Robinson said.
Three of the kiosks are under lease and the fourth became available when the original tenant suffered an accident recently and won't be able to open. Robinson is looking for someone to lease the now vacant space.
But three of the kiosks will offer a wide variety of dining options. Crush Superfoods is a smoothie and juice bar offering acai bowls, smoothies and juice extracts. It currently operates delivery only in Alamance County but will have a space in the Burlington Food Hall. Another kiosk will host Oishu, which will offer Asian-style hibachi dishes, including vegetarian options. The third kiosk is called Casey's Bistro and will specialize in soups, salads and sandwiches using locally sourced, fresh ingredients. "They will also offer breakfast options, which we're excited about," Robinson said.
Leasing space for a commissary kitchen will be a part of the building. It's designed for caterers and food trucks or for anyone who needs a health department-inspected kitchen to operate. Robinson said it can be leased in two-hour increments and called it a "very functional space."
Peter Bishop, Burlington's Economic Development director, said the food hall and the concept will make an impact downtown. He is particularly drawn to the idea of the food hall kiosks acting as incubators for future restaurants.
"Not only will the space bring Go Burrito and another community gathering space to Front Street, the Burlington Food Hall also has an opportunity to serve as a catalyst for food entrepreneurship that will incubate and support many different food businesses in the City and Downtown," Bishop said.
Getting to this point took much longer than Robinson anticipated. During her original announcement in 2019 she targeted December of that year as the opening date. Downtown projects are often slower to move than others due to aging infrastructure, historic designations and permitting. Robinson said it turned out to be a blessing that the Burlington Food Hall didn't open at the end of 2019. COVID-19 would have shut it down less than three months later, which might have closed it forever.
"We're excited to be at the point where the next steps are for the kiosks to move through the health department permitting process. We're almost there. It's how all downtown redevelopment projects go. Every project on every level faces delays and setbacks. That's what makes downtown special," said Robinson, whose company has been involved in numerous downtown projects, including Burlington Beer Works, Smitty's Homemade, The Blend and Co., the Mini Dingo (formerly STEAM Junction), Occasions and the Front Street Bottle Shop. "We're working with the health department to create the best outcome for the community and keep our customers safe."
Sara Beth Hardy, downtown manager for the City of Burlington believes the September opening of the  Burlington Food Hall coincides with a need for people to get out and try new things.
"This year has shown us that there is desire among Elon students and local community members alike for outdoor dining and evening/weekend experiences like never before," Hardy said. "The food hall will provide both, and will serve as the perfect complement to downtown's growing selection of restaurants and bars."
When the Burlington Food Hall opens it will give potential visitors another reason to go downtown and grow the community as a destination point. The food hall fits in nicely with the other dining and drink options already in downtown and joins Tanner's Wine Bar and the soon to be opened Carolina Sundries as welcome new additions.
"I'm looking forward to it opening because it's so needed," Robinson said, pointing out that multiple options for quality dining will grow the number of people coming downtown to eat or have drinks. "The more places we have downtown, the more quality dining we have downtown it brings success to us all. "It will increase traffic. A rising tide raises all ships.
"I'm ready to eat there."