Alamance County is home to a vibrant arts scene. Visitors will discover awe-inspiring murals in downtown Burlington, Graham and Mebane. Multiple art galleries and retail establishments feature a wide array of works from local artists. In addition, the county boasts a thriving theater community, which includes the Gallery Players, Paramount Acting Company, Studio 1 and Alamance Children's Theatre. Art aficionados travel from around the world to visit Alamance Arts in Graham.
"We hear all the time that they are amazed that Graham can attract such amazing world-class art! Examples would be the Dale Chihuly blown glass exhibit in 2016, which brought over 31,000 visitors in three months from all 50 states and 21 foreign countries. The LEGO exhibit by Nathan Sawaya was another huge hit," says Karen Carrouth, Community Outreach Coordinator for Alamance Arts. "The current 25-foot sculpture in the front yard, Embracing Peace by Seward Johnson, continues to bring by visitors, and it will remain through the spring of 2022."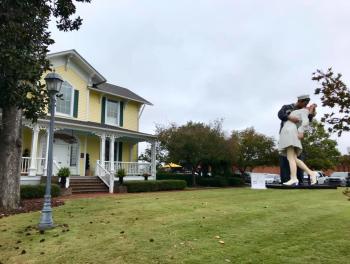 Alamance Arts is located near downtown Graham in the historic Captain White House, which was built in 1873. The property is filled with a variety of exhibits, which are updated every 6 – 8 weeks. Visitors can pick up artworks and other reminders of their visit from Picasso's Gift Shop.
"It's exciting to cross paths with people who love all the arts—visual, theatre, music, etc.," Carrouth says. "We encourage visitors to embrace the art around them, and to be creative!"
Visit AlamanceArts.org to learn more.