Specialty diets are something that have always been around but in the last decade has become more and more popular and restaurants are joining in on the fun!  One thing about having/following a specialty diet is that usually you're the person in the group that decides where to eat, so in the spirit of that, we at Visit Alamance are starting a series focusing on the places in Alamance County with special dietary menus like gluten-free, vegan and vegetarian.  Our first post focuses on three places across the county with a wide range of gluten-free menu options and a solid understanding of the gluten allergy! 
Located in Downtown Elon, Pandora's Pies is a staple for gluten-free locals, visitors, and Elon students alike. There is something for everyone in your group at Pandora's including sandwiches, wings, and endless pizza combinations. They also have a new Special's menu each month with a pizza, wing, salad and sandwich! Their staff is knowledgeable and more than willing to help you navigate any questions you may have after looking at their menu. Every month they also create a special features menu with additional options that can often be made GF! Just be sure to check with your server if you have any questions.
What's GF & What's Not?
What's something that GF people all love but don't get to enjoy too often? Appetizers, and Pandora's has them! You can choose from potato skins, wings, roasted corn, avocados and even GF bruschetta! Some of the options aren't GF on their own but can easily be made that way.  Unfortunately, the garlic knots and cheese breads aren't GF but don't let that stop you from trying their other incredible options.
Guests can choose between 18 specialty pie creations or build their own! The only pizza that can't be made gluten-free is the Wharf Rat because of the homemade meatballs. All of Pandora's salads can be made or are naturally GF except for the Crispy Goat Cheese salad. Moving into the Sandwich section, using Simple Kneads GF bread, all of their sandwiches can be altered to be GF!
Why GF?
When I met with Kimberly Holt (Owner), we talked about why they decided to be so open to gluten-free options and education. She talked about the ways that being so close to campus brought in a ton of Elon students looking for a gluten-free option. With those students came parents who wanted to be sure that their kids would be able to eat in this new town they were leaving them in.  She told a story about a young man that they met several years ago that had never had pizza from a restaurant because of his gluten allergy but was able to enjoy pizza with his friends like a normal college kid at Pandora's. "Things like that are why we keep doing it and learning and expanding."
Pandora's Pies is open Sunday & Tuesday-Thursday 11am-9:30pm and Friday-Saturday 11am-10pm. Closed on Monday.
          
   
Located in Downtown Graham, Press Coffee & Crepes is one of the only Creperies for miles. On any given weekend their dining room and patio are all filled to the brim with brunch goers looking for their sweet (or savory) fix to go with their morning coffee. Unique Crepes and Coffee aren't the only things to try there though, they also have a full bar complete with craft cocktails! Their menu always has some seasonal goodies too, so there's always something new to try!
What makes Press unique, however, is their dedication to their GF menu items and how they prepare all of their menu to make it more accessible to those with dietary restrictions.
What's GF & What's Not?
There are only two things on the entire menu that cannot be made gluten-free: their pub mustard and their gravy. Anything involving either of these options can be substituted out!  Some of the menu items aren't practical with the GF crepe shell so they can be made into a bowl instead. If you're interested in the Breakfast Creation Crepe, it will likely be made into a bowl instead of in a crepe shell!
One unique feature with Press is that it uses gluten-free substitutes as the normal ingredients in several of their options. The Cheesecake Crepes all use GF graham crackers 100% of the time. Their chicken marinade also uses GF soy sauce. They have gluten-free bread for breadcrumbs! These simple substitutions have made their menu almost 100% accessible to those with GF needs! Their new brunch feature, the Hashbrown waffle, is also gluten-free!
At the counter there is usually at least one gluten-free pastry available so be sure to ask the barista what the GF pastry of the day is.
Why GF?
When I spoke with Ashley Aguirre (General Manager), who is GF herself, about Press's desire to be so accommodating, we discussed the way that often those 'in the car' with dietary restrictions are the ones who usually decide where to eat. If they can't eat at a particular restaurant, the chances of them going there are slim to none. Having an accessible and clearly marked menu is one way to draw those customers in.
Like so many other restaurants here in Alamance County, the idea of having GF options originally came from the large number of Elon students in the area who were looking for places that could accommodate their dietary needs. That on top of the number of Alamance County natives with the same needs, Press decided to start with GF options and have evolved into the GF person's go-to! Cross contamination is always a concern when going to eat at a restaurant with any type of allergy, but Press takes steps to try and be as safe as possible. This includes cleaning equipment between GF orders and replacing gloves and utensils.
Press is open Monday & Wednesday-Friday from 7am-6pm and for Brunch on Saturday and Sunday 9am-3pm. Closed on Tuesday.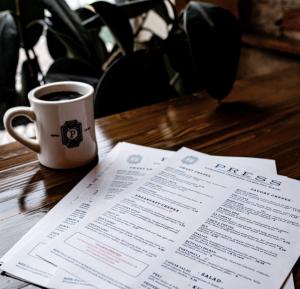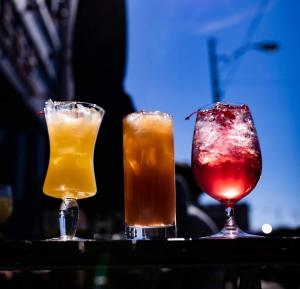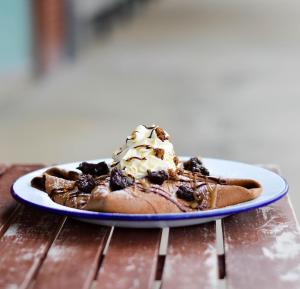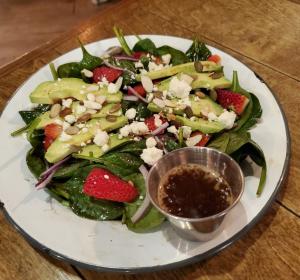 Located on the Southern end of Alamance County right on the banks of the Haw River is the Saxapahaw General Store. The idea of "something here for everyone" is personified with the sheer number of gluten-free options available. Aside from their grill there are also gluten-free grocery, beer, and bakery items available as well!
What's GF & What's Not?
The Saxapahaw General Store is big on communicating and is always willing to work with a customer on how to make a specific menu item meet a dietary need. They offer gluten-free pizza crust and bread choices and are also able to make sandwiches/burgers into bowls over rice, greens, or home fries. If something on the menu strikes your eye, check with a team member for how it can be modified to be gluten free! The options are almost endless from tacos and sandwiches to pizza! You can also browse their grocery items while you wait which include, local GF baked goods and GF grocery staples!  
Why GF?
When talking with the General Store about why they felt the need to have so many available options/modifications they explained that it was their plan from the very beginning. The General Store's mission has always been about offering healthy food, and a freedom of choice. Saxapahaw is a small, but varied community, full of residents and food producers who are passionate about what goes into their body.
"For us, it's never really been a choice. We always want to be able to offer amazing farm-to-table food to anyone, and pretty much anything on our extensive menu can be made gluten-free, vegan, vegetarian, or safe for most allergies including wheat, soy, peanut, and alpha-gal. And the fact that we're able to provide gluten-free options that are also locally made is a bonus."
When the General Store first evolved from its origins of a rural gas station, that only offered frozen pizzas and hot dogs, they began working hand-in-hand with local farmers and distributors to make it an oasis of healthy, fresh, locally produced food for everyone.
Saxapahaw General Store is open Monday-Friday 6:30am-9:00pm, Saturday 7:00am-9:00pm and Sunday 10:00am-9:00pm.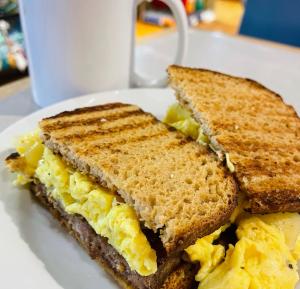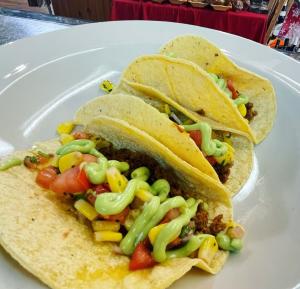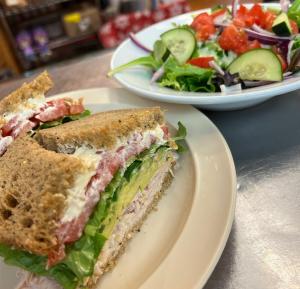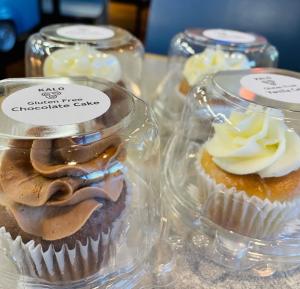 While we all do our best to be knowledgeable and recommend safe restaurants for our readers with allergies, please always know your own sensitivity level and talk to the staff anytime you're looking for a GF menu due to allergy.
So go forth and try all of the GF spots we've recommended! If you try them, be sure to use the #GFinAC and tag us at @VisitAlamance!