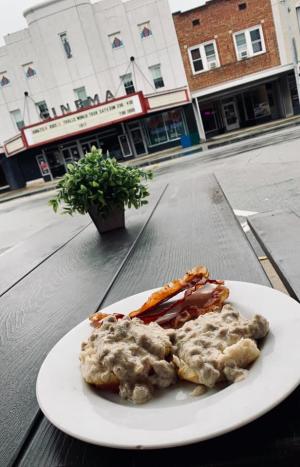 Spend a day in Alamance County exploring our ever-growing culinary scene. Read on for some of the must-visit places for the adventurous eater.
Breakfast
You'll find many options for a great cup of coffee and cozy breakfast, from cafés to old-fashioned diners and exciting brunch spots.
In Gibsonville, head over to Daisy May Café and try a sunshine latte with ginger and turmeric.
In Burlington you'll love The Blend and Co, where you can relax on a cozy sofa and sip a warm drink. Stop by Converge Coffee Bar and Cafe, where the coffee is roasted right here in Alamance County.
Salvation Coffee is a veteran owned coffee shop, also in Burlington, with creative coffee drinks and an energetic atmosphere. 
For a satisfying bite, newly renovated Danny's Café in Burlington has omelets and eggs cooked just the way you like them.
You'll also love Sutton's on the Wrike in Graham which offers sumptuous comfort food, including homemade biscuits and gravy. Filament Coffee and Tea in Mebane will fulfill your pastry and coffee desires, as well as offer some excellent local art to purchase. 
Stop by Melonomic at Reeds in Graham for a coffee and records fix. Grab a cup of something hot at the Oak House in Elon and then stroll down the brick streets of Elon University. Cup 22 Coffee House in Saxapahaw overlooks the Haw River, giving you a beautiful view and a delicious drink. 
Lunch
From BBQ to fine dining, there's a delectable menu waiting for you as you head out to lunch.
In Graham, try Press Coffee + Crepes, where their delicious sweet and savory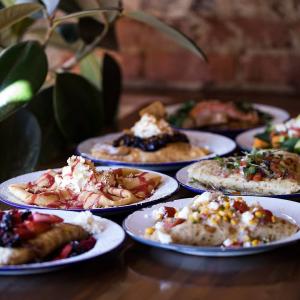 crepes change seasonally. HWY 55 Burgers and Fries in Mebane and the Graham Soda Shop in Graham offer burgers, fries, shakes and more, in a nostalgic diner setting.
The Saxapahaw General Store is located inside a unique gas station with gourmet sandwiches and more on the menu, made with local farm fresh ingredients.
For excellent wood-fire smoked BBQ and classic southern side dishes, you can't beat Smokehouse at Steve's in Graham or Dickie Doo's BBQ in Haw River.
In Elon, try a fusion taco from Tangent Eat Bar or head over to Pandora's Pies for a slice of savory pizza. The Mediterrian Deli will satisfy your craving for tangy dolmades and fresh mediterranean fare.
Junction on 70 in Mebane offers classic American fare with menu options for the whole family.
Zack's Hotdogs is a local favorite, offering hotdogs and other lunch fare in Burlington. In Gibsonville, the Mission is serving up creative tacos and drinks.
The lunch buffet at Occasions in Burlington is wildly popular, and they do southern food to perfection.

Dinner   
Stroll our downtowns and you'll find cozy bars and comfortable, modern restaurants.
In Mebane, The Verdict on the Square is serving American food with a judicial twist, like the Supreme Court Burger loaded with bacon and cheese.
In Saxapahaw, the Eddy Pub takes local farm fresh ingredients and transforms them into creative dishes, inside a relaxed pub atmosphere.
The Mebane Downtown Table is a blend of creole and southern food in a comfortable and elegant setting.
You'll enjoy eating at The Mark at Elon, located in the beautiful Inn at Elon, where you can find upscale plates and craft drinks. Also in Elon, head to The Root for flavorful food made from scratch in the heart of downtown.
The Village Grille is a local favorite in Burlington, be sure to try their famous key lime chicken. 
For a great locally brewed beer and creative southern food, head over to Burlington Beer Works and sit on the patio or inside the renovated historic building. 
Late Night and Drinks
There are many reasons to stay out a little later, and satisfying your sweet tooth is definitely one of them. Smitty's has three locations in Elon, Burlington and Graham and their homemade ice cream is the perfect end to your night.
Whit's Frozen Custard in Graham offers tempting custard flavors like German Chocolate Cake and Black Raspberry Chip.
For dessert and an excellent cocktail, Dick and Jane's Tapas and Martini Bar is a local favorite and you'll enjoy their late night menu and large selection of drinks and martinis.
Fitzgerald and Faulkner is the place to go for the serious cocktail aficionado, you'll love the housemade syrups and the care they put into their craft drinks. 
For great food and music, The Fat Frogge in Elon has weekend concerts and daily drink specials.
Front Street Bottle Shop and Tasting Room brings you craft beer and a great selection of wines to try in Burlington. 
For a complete list of restaurants and late night options in Alamance County, see here.