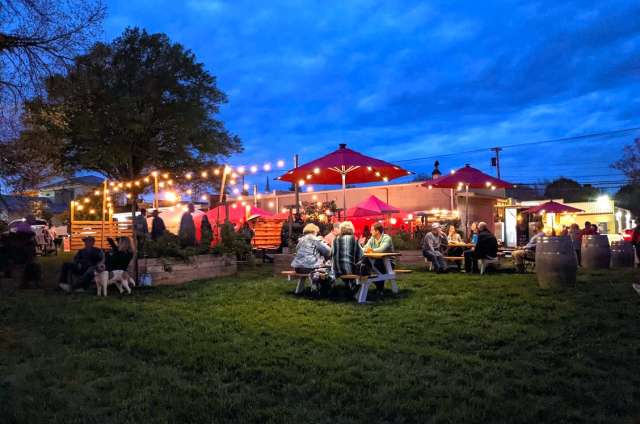 ALAMANCE COUNTY, N.C. (March 8, 2022): Fans of craft beer will get the chance to experience a unique, interactive "brewery crawl" throughout Alamance County April 1st-30th, 2022. The Alamance County Visitors Bureau (Visit Alamance) is partnering with participating breweries in the towns and cities of Burlington, Graham, Mebane, Saxapahaw and Gibsonville to host "Beer Crawl Bingo."
This month-long celebration is for visitors as well as county residents. The campaign will include brewery bingo cards designed with brewery activities as the squares. Participants who cover five spaces in a row during the month will be entered into a drawing for a grand prize gift basket valued at up to $200. Cards will be available at the participating breweries.
The participating breweries include:
Bingo cards are filled with different activities including: ordering flights of beers, fun food finds, live music, and many others. As you travel from brewery to brewery, bartenders will mark off each activity, including special events as they occur throughout the month. Once a participant has "BINGO", (either horizontal, diagonal or vertical), they can submit their card at one of the listed breweries to vie for the prize. A lucky winner will be picked at random and awarded a grand prize consisting of a gift basket offering gift certificates to each of the participating breweries to enjoy at a later time (a value of up to $200).
"We are excited to showcase our local brewers and all they have to offer", says Visit Alamance's Executive Director, Grace VandeVisser. "We invite you to enjoy visiting our breweries and expand your visit by exploring our area."
This initiative functions as a scavenger hunt and will take visitors to most of Alamance's towns and villages. Haw River Ales was the first brewery in the county, founded in Saxapahaw in 2014 and operating in the former Dixie Yarns Cotton Mill on the Haw River. Brewers, Ben and Dawnya Woodward, draw on the techniques of French and Belgian brewers.
Burlington Beer Works is NC's first cooperative brewery and restaurant, with the aim of local and regional partnerships made of farmers and producers. They provide "farm-to-table" freshness with a pub twist.
In Graham, Forgotten Road Ales is known for its rotating fleet of diverse food trucks and delicious barrel aged beers, including wild and sour beers. Depending on the weather, people are always welcome to bring their own picnic baskets to enjoy the beer garden.
Opening its doors in 2019 as Mebane's first brewery, Bright Penny Brewing is located in a charming old feed mill in the historic downtown district. They aim to create a family friendly taproom environment including live music and delicious pizza.
Toasty Kettlyst is a nano brewery in Downtown Gibsonville that began as a hobby and passion for craft beer that blossomed into a thriving business. Beer styles vary from IPAs, wheat beers and porters, to British strong ales to Dunkelweizen, and more.
For more information or specific stores and their specials, please visit the Facebook Event page.