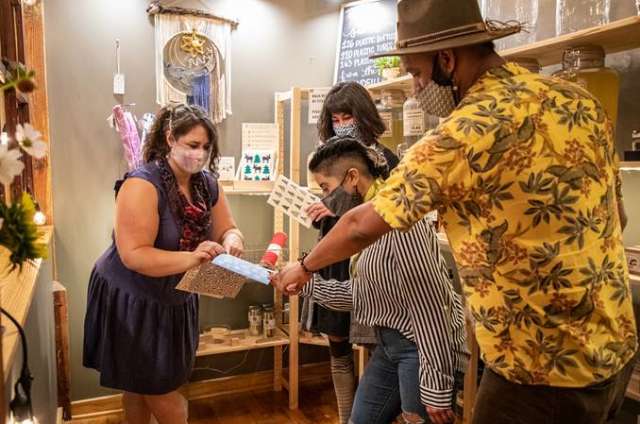 "Saxapahaw Shop Hosts Socially Distanced Art Fair"
SAXAPAHAW, N.C. (November 13, 2020) — Freehand Market: a sustainable goods and gift boutique shop in Saxapahaw's restored mill shopping center, is hosting "A Very 2020 Holiday Maker Pop-Up Series" through December 21st to celebrate the holiday season and local artists from around the region, while keeping their community and participants safe.
"The Holiday Market in Saxapahaw was cancelled this year," states Freehand founder and CEO Heather Seaman in regards to the current pandemic climate. "And local makers and artists are the heart of any community, so as a response we're hosting holiday pop-ups in the shop every Saturday and Sunday in November and December."
The cancelled, annual, two-day Saxapahaw Holiday Market usually takes place in December for shoppers to buy and peruse for holiday gifts from all of the locally produced and handcrafted wares including: jewelry and pottery, antiques, paintings, gift baskets, art, woodworking, and more, in addition to enjoying food and live music.
Like every other business in the country, Freehand Market had to get creative to address and overcome the COVID-19 pandemic. Among social distancing practices, curbside pick-ups, and a revitalized website to highlight their curated selection, there is also this pop-up market which features numerous rotating artists and makers the shop already carries, including: Milestone Bag Co accessories, Glean Design jewelry, Mystic Roots Co gardening, DarionGlass arts, Lassiter Fine Foods agriculture, Earth + Iron ceramics, Blawesome flower farm, Farmbelly farm to table, Cocoa Body Co skincare, Benevolence Farm body care, and Curry Wilkinson ceramics.
"There's something so special about a treasured piece that was made by someone's two hands," says Seaman. "The time and creativity that go into these one of a kind objects will be loved and passed down for generations."
Freehand Market features approximately 100 makers in the shop at any given time. Approximately half of the makers are based in North Carolina, another 20-30% in the Southeast area, and the rest are from elsewhere.
"When we source directly from makers and artists themselves, we know that the product was ethically made, usually in a more eco-conscious way than if it was produced in another country or a factory," states Seaman with a smile. 
_______________
ABOUT:
Freehand Market is a sustainable goods and gift boutique shop located in the magical mill village of Saxapahaw, NC. Freehand carries a wide range of products, from botanical incense to organic makeup, to refillable cleaning products, to hand-printed apparel. Freehand offers open retail hours, shopping by appointment, and free local curbside pickup. For more information visit their ​Website​, follow on ​Facebook​ + ​Instagram​,