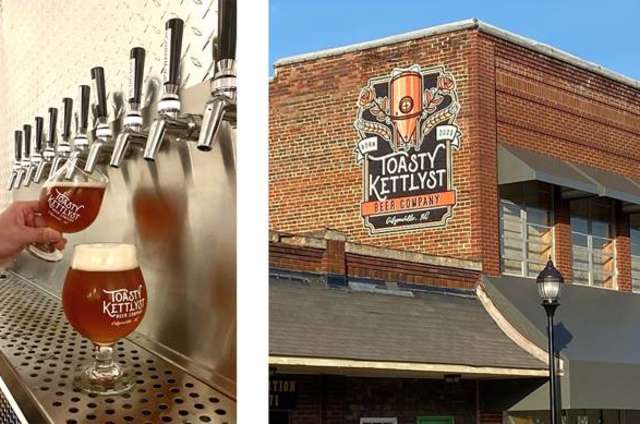 "Gibsonville Celebrates New Downtown Brewery"
GIBSONVILLE, N.C., (November 17, 2020) — The Town of Gibsonville celebrates the opening of The Toasty Kettlyst Beer Company and brewery on Friday, November 20 at the 106 W Main Street Downtown Gibsonville storefront. There will be a ribbon cutting ceremony at 4pm right before the doors open. Brewery will open 30 minutes after the ribbon cutting ceremony. 
The new downtown nano-brewery will manufacture and have a retail taproom on site with up to 12 beers on tap, as well as collaborations and partnerships with friends and neighbors. For owner Praveen Karandikar, building and strengthening community is a large part of running a successful business.
"We are very passionate about historical downtowns and downtown revitalization efforts," says Karandikar with enthusiasm. "We chose downtown Gibsonville as our home base with all the revitalization efforts planned for the community." 
The brewery will partner with local restaurants to make bringing takeout food into the taproom easy and accessible, especially in today's pandemic climate. Families and kids will be welcome into this new, inclusive, community gathering place.
The Toasty Kettylst focuses on brewing IPAs, Brown Ales, Porters, Lagers, Stouts, Bocks, and Wheat craft beers with a focus on some of the historical taste profiles but adding their own spin on recipe development to bring out some innovative flavors.
"Beer is complex, its flavor, history and how it works, runs long and deep. Historical beer profiles from all over the world tingled our desire to create something of our own which was intriguing and a challenge to us," states Karandikar. "Our hope is for you to be able to enjoy the best intriguing beers taking you back in time, being in the present company of friends and family."
Motley, a community development and creative placemaking firm based in the N.C. Piedmont, is currently contracted by the Town of Gibsonville for business recruitment and economic development services. For more information about the incoming businesses, please contact gui@motleync.com.
---
ABOUT THE TOASTY KETTLYST
The Toasty Kettlyst Beer Company is a brewery and taproom in Downtown Gibsonville founded in 2020. The retail taproom will feature up to 12 beers on tap with special, seasonal collaborations and partnerships with neighboring local businesses. For more information visit their Website, or follow on Instagram + Facebook.
HOURS
M - Th | 4 - 10pm
F | 4 - 11pm
Sat | 12 - 11pm
Sun | 12 - 8pm